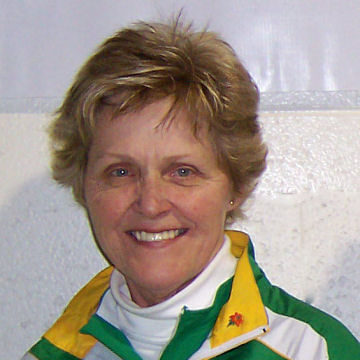 Carol Christopher (Builder)
Carol started curling when she was 9 years old in a one sheet rink in Parkman Sask. She started curling competitively in 1971 in North Battleford and skipped her way to her first Women's Northern Playdown that year. This got her hooked and after that she participated in Women's, Intermediate Women's', Senior Women's, Master Women's, Mixed and Legion Mixed before retiring from competitive curling in 2010.
Carol curled in 13 Women's Northern playdowns, skipping in 9, played 3rd for Marian Scott in two provincial Intermediate playdowns, played skip at two Provincial Senior Women's Playdowns and played third at two Provincial Mixed Playdowns curling with her husband Don. She also participated in 4 Provincial Mixed Legion Playdowns winning the provincial championship twice and was runner up in the other two.
Carol also participated at 3 Master Women's Provincials. Skipped in two of them and played 3rd in the other one for Crystal Frisk. At the 2007 Championship in Estevan Carol skipped her rink of 3rd Shirley Palendat, 2nd Jean McLean lead Sharon Spence won the Provincial Championship defeating Pat Buglass in the final.
They represented Saskatchewan at the National Championship in Hamilton Ontario where they played very well finishing tied for fourth place, just missing the 3 team playoff for the Canadian Championship.
Carol has been a very active member of a curling club in the Battlefords for over 50 years. Starting at the North Battleford Granite in 1968, then the Battleford Curling Club when the Granite closed and now the new Twin Rivers Curling Club.
She has chaired numerous playdowns, bonspiels and fundraisers. When not chairing the event she is still involved chairing or working on a committee for that event. Her strong suit is definitely recruiting and organizing volunteers. Ask any club member —-they have trouble saying no to her.
Carol is always promoting curling and has talked many people into starting to curl, or starting to curl again. With many of the small community rinks around closing she has talked many of these curlers into curling in North Battleford.
What Carol will be remembered most for is her commitment to the 50 Plus Curling League. Carol was instrumental in getting the league started and ran it for 22 years. In the 1990's there were a lot of early retirees who wanted to curl during the day and the curling ice was not being utilized. Carol recognized the opportunity for a new curling league. She organized a 50 plus league for curlers of 50 to over 90 years of age. It started with 8 teams at 1 PM on Thursdays. Under Carol's leadership the league soon grew to between 20 and 24 teams which required both a morning and afternoon draw. Curlers sign up for half a season indicating their preferred position and Carol and her committee draw the teams. Teams are redrawn after Christmas which works well for farmers who are busy in the fall and Snowbirds that go south after Christmas. If players needed a sub they called Carol and she got all the subs required for each draw. This was a great deal of work but in 22 years there has never been a defaulted game.
Carol organized at least one fund raiser each year for the league. Funds raised are used to improve the enjoyment for senior curlers such as curling sticks, more benches, halos and other safety head gear. The 50 plus league also donated $20,000.00 to the building fund for the new rink.
Besides the work she did for her Curling Club she also found time to serve as a regional and district coordinator for the Saskatchewan Ladies Curling Association for several years.
In 2001 Carol received the Canadian Curling Assoc.-Recognition Award for dedicated and outstanding service to the sport of curling, in 2008 she received the Battlefords Regional Recreation Assoc. – Volunteer Sports Award and in 2002 Carol and her husband Don received the Scotty Richardson Memorial Award from Curl Sask.
Ladies and Gentlemen please welcome Carol Christopher into the Legends of Curling Honour Roll in the Builder Category.