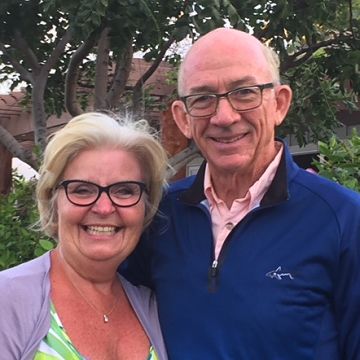 Chris & Karen Pasterfield (Sponsors)
Since 1976 Laurie Artiss Ltd., The Pin People as they are known, have specialized in pin making. The company was founded by Laurie Artiss, a legendary writer and sports editor at The Leader-Post who was also a noted curler and an entrepreneur. While the store was originally a curling store, it eventually got into the business of designing pins for use by curling clubs and at bonspiels. The pin business expanded beyond just curling pins and the company eventually phased out the curling equipment side of its business and concentrated on producing pins.
In 1997 Laurie Artiss turned the business over to his daughter Karen and her husband Chris Pasterfield. Karen joined the company at an early age and has handled every aspect of the company. The company has grown substantially over the years and has supplied pins for two Olympic Games and other projects such as the Canada Summer games in Saskatoon.
Chris Pasterfield is quoted as saying "you cannot forget your core business. You cannot forget the schools, churches and local sporting groups because they are your bread and butter." They have never forgotten how they started, as a curling store providing curling supplies and curling pins to curling clubs. They were the official supplier to the Provincial Association, Curl Canada and to curling clubs throughout Saskatchewan, Canada and beyond.
Karen has been involved in the sport of curling for her entire life.  She began curling at the Tartan Curling Club with her Mom and all her friends.  Karen's career in the volunteer world also started with her parents organizing local bonspiels, hosting South Championships, Provincial Championships and national and international championships.   Karen was a Committee Chair for the first Scott Tournament of Hearts held in Regina in 1982.   She continued to contribute and was part of the 1983 Silver Broom and the 1992 Brier. She served as Co-Chair of the 1998 Scott Tournaments of Hearts, the 2001 Olympic Curling Trials and the 2006 Tim Horton's Brier. She was also on the Executive for the first ever Continental Cup in 2002 volunteered at the 2008 Scotties Tournament of Hearts.
Chris has also been a dedicated volunteer in the City of Regina. He is a long time dedicated Lion and a long-standing member of the Regina Breakfast Club.  He is a Past President of the University of Regina Alumni Association, serving for close to 10 years on the Board of Directors.  Chris has also been Karen's right hand man at all of the curling events that she was involved in.
The Legends Committee welcomes Chris and Karen Pasterfield into the Legends of Curling Honour Roll in the Sponsorship Category.
Inducted – April, 2018