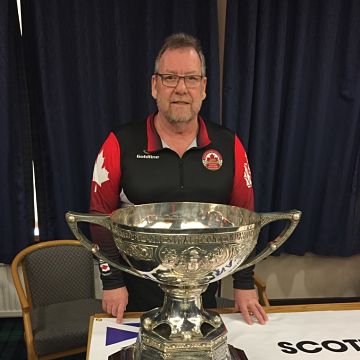 Ted Phenix (Curler)
Ted started curling at the age of eleven in a two sheet natural rink at E.B Campbell Hydroelectric Station north of Carrot River. He helped with the construction of the rink as much as an eleven year old could. A volunteer even at the age of eleven. The first year was spent trying to get a game every night and heaving the unevenly matched stones down the ice with both feet in the hack. He remembers curling in many bonspiels in the area with his dad and lots of the local curling celebrity curlers from Nipawin and Carrot River.
In 1964 his family moved to Regina where he attended Thom Collegiate High School.  He curled on his High School team for three years and remembers curling against the likes of Danny Fink, Garth Rusconi, Les Rogers, Ronnie Jacques, Rob Findlay, the Ziola's and John Grundy. Ted told me about Curling in a seniors cash spiel in Lloydminister forty years after high school and of the four Regina teams there, fourteen of the sixteen players he had played with or against back in the high school years. In 1967 he teamed up with Tom Dose, Doug Mieyette and Ron Bibloe and represented Thom Collegiate at the Southern school boys playdowns. The other representative from Regina was Ron Jacques who went on to win the province.
After High School he continued to curl at various levels. In Regina he curled competively with John Grundy and Monty and Kirk Ziola. He moved to Saskatoon to attend University where he continued to curl.  In 1976 Ted moved to Tisdale to set up his Dental Practice and became a member of the Tisdale Curling Club.
In 1992 Ted's son, Jeff decided he wanted to become involved in Junior curling so Ted became a curling coach. He coached his son and his team for the next five years. He coached them to Provincial's and although they never won, through his coaching he introduced many young curlers from the Tisdale area to the curling. Many of them continue to curl including his son Jeff who this year played third on a team that qualified for the Alberta Provincial Men's Championship.
After Jeff graduated from Juniors Ted joined them on the team and they began to curl on the competitive circuit in Saskatchewan, Alberta and BC. and compete against some of the top teams in Western Canada. Ted also continued to enter Men's Playdowns and qualified for the Northerns seven times. One of his biggest regrets was that they never qualified for Provincials. One year the Tisdale rocks were used at the provincials in Weyburn. Randy Gilewich, who was curling in provincials that year, spotted Ted in the crowd and hollered at him" ted , I see you finally made it to provincials, I have your name on my rocks."
As I said earlier Ted moved to Tisdale in 1976 and in 1977 joined the Tisdale curling executive and continues to serve on the executive to this day. He has been involved in every event that Tisdale has hosted including several ladies northerns, men's northerns, men's and ladies seniors northerns and provincials, mixed provincials, high school and 4H championships. Ted has also been involved with coaching High School teams and ran the junior development program from 1998 to 2006.
Ted has been a dentist in Tisdale for 39 years and has been a supporter of all community activities. In 2010 he received a life membership in the Tisdale Curling Club.
Ted's favourite memory of curling was being selected in 2017 to be part of Canada team for the Strathcona Cup, an international competition between Scotland and Canada that is played every five years has taken place since 1903 and took place in Scotland.
Ladies and gentlemen please join me in welcoming Ted Phenix to the Legends of Curling Honour Roll in the Curler Category.